In collusion with her cousin/step-brother, Ralph Clawson, it would appear to her folks that she and Ralph were going out somewhere. In reality, he would take her to meet Glen. On December 24, 1916 Glen and Vesta wed at the home of her folks on Arrow Avenue in Anderson, Indiana.
A pretty home wedding will occur next Sunday afternoon, Dec. 24, at 1 o'clock, at the residence of Mr. and Mrs. W.F. Clawson, 1523 Arrow avenue, when Mrs. Clawson's daughter, Miss Vesta Wilt will be married to Glenn (sic) R. Johnson, son of Mr. and Mrs. J.L. Johson, of 99 Indiana avenue, N.A. Rev. W.L. Lundy will read the marriage service, using the ring ceremony, and the couple will be attended by Miss Mae Agnew and Densel Clemons. Miss Wilt will wear her traveling suit of blue coth with black hat, and her flowers will be a corsage bouquet of bride's roses. Miss Agnew, the bride's maid, also will wear a tailored suit. Immediately after the wedding Mr. Johnson will take his bride on a wedding trip to Dayton, O., where they will spend several days. On returning home they will reside at 99 Indiana avenue, N.A., being "at home" after Jan. 8. Miss Wilt has been active in the social life of the west part of the city and has many firneds. She is a member of the T. A. N. club. Mr. Johnson is a machinist and he has been employed at the Remy Electric company. Only the immediate relatives and a few intimate friends will be present for the wedding. Including Mr. and Mrs. J.L. Johnson, Mr. and Mrs. W.S. Clawson, Misses Shirley Moss, Nellie Wilt, Eva Johnson and Lena Fisher; Messrs. Clyde Wilt, Claude Duncan and Clifford Wilt.
Miss Marie Vesta Wilt, daughter of Mrs. W.F. Clawson, and Glenn Johnson, son of Mr. and Mrs. J.L. Johnson, of 99 Indiana avenue, N.A. were married Sunday afternoon at 1 o'clock by the Rev. W.L. Lundy, at the home of Mr. and Mrs. W.F. Clawson, 1253 Arrow avenue. A traveling suit of blue with hat to match, and a corsage bouquet of bride's roses was worn by the bride, and Miss Mae Agnew, maid of honor, also wore a tailored suit. Densel Clemons attended Mr. Johnson as best man. A number of friends and relatives were present for the wedding, and shortly after 2 o'clock Mr. and Mrs. Johnson left on a trip to Dayton and Urbana, O. After Jan. 8 they will be at home to their friends at 99 Indiana avenue.
Glen and Vesta resided in Anderson, Indiana for several years. Three of their children were born there. In 1923, the couple moved to Fairfield (now Fairborn), Ohio. Their fourth child, a daughter, was born in Ohio. Lois Evelyn was born six weeks premature and died when she was six weeks old. She was buried in the old Fairfield Cemetery which presently is right outside the grounds of Wright Patterson Air Force Base in Fairborn. Some time after burial, a local family lost their children in a fire and were too impoverished to afford a plot. Glen and Vesta donated Lois Evelyn's plot. They had the vault opened to move the casket and Vesta requested one final look at her baby daughter. Lois Evelyn was then moved to Glen Haven Memorial Gardens in New Carlisle, Ohio.
In 1950, Glen was named Supply Chief and sent to Wiesbaden, Germany. During their three year stay in Europe, Vesta was able to visit many European cities and toured some of the camps that had been used by the Nazi's during WWII. They both wrote several letters home to their families during this time. The letters were saved by their daughter and excerpts are found at the letters from the Johnson's page. In 1953 the couple returned to the states and Glen to a new position.
Tullahoma, June 26 - (Special) - Col. Glenn R. Johnson has been named deputy chief of staff for material at Arnold Engineering Development Center, succeeding Col. Paul E. Helmick. Johnson reported for duty at the AEDC Wednesday. His previous assignment was at U.S. Air Force Headquarters at Weisbaden, Germany.
Glen Johnson retired from the Air Force in 1958. He was affiliated with many organizations during his lifetime. Glen and Vesta were members of Trinity United Church of Christ on Central Avenue in Fairborn, Ohio.
In 1966 their two surviving children (their oldest daughter died in 1958) held a 50th Anniversary open house at their home in Kettering, Ohio. The party was well attended and many gifts and well-wishes were given.
50th wedding anniversary . . .
Colonel (Ret.) and Mrs. Glen R. Johnson are being honored by their children who are holding an Open House at the Johnson's home, 3012 East Rahn Rd., Dayton, on Tuesday, Dec. 27, 2 to 5 p.m. The Johnson's were married at Anderson, Ind. on Dec. 24, 1916, where they both were raised. Mrs. Johnson was the former Miss Vesta C. Wilt.
The Johnsons have been residents of this area since 1923 when Colonel Johnson came from Anderson, Ind. to start working for the U.S. Army Air Corps at old Patterson Field. Colonel Johnson saw service in World War I as an enlisted man in the U.S. Army Air Corps. In 1925 he was commissioned a Second Lieutenant U.S. Army Reserve, and in January 1942 at the start of World War II was called to active duty, and served continuously until the close of the Korean action, and released from active duty in September 1953. Colonel Johnson was retired by the U.S. Air Service on Dec. 1, 1958 as a Colonel U.S. Air Service, and on Jan. 1, 1959 was retired as the Civilian Chief of Supply and Services at the Dayton Air Force Depot, now known as DESC.
Colonel and Mrs. Johnson had four children, two of who are living; a son Glen R. Jr., of Battle Creek, Michigan, and a daughter, Mrs. Eugene (Mary Helen) Amore of Beavercreek. Two daughters are deceased; Lois Evelyn died in 1927, and Mrs. John (Genevieve) Steffen Jr., died in 1958. They have eight grand - children and three great - grand - children.
Friends of Colonel and Mrs. Johnson are invited to call during the Open House.
Anniverary Announcement
Unknown newspaper clipping from the Dayton, Ohio area.
Celebrating their 50th wedding anniversary Tuesday with an open house at their home was Col. and Mrs. Glen Johnson, 3012 Rahn Rd.
Approximately 150 guests from Urbana, Lewisburg, Fairborn, Dayton and New Carlisle, O.; Muncie, Pendleton and Sulphur Springs, Ind., and Michigan attended the affair. Among those present were the honored guests' children and grandchildren and their families.
Children of the couple attending were their son and family, Mr. and Mrs. Glen Roy Johnson Jr. and son, Rick, of Battle Creek, Mich., and their daughters and families, Mr. and Mrs. Larry Dalley of Miami University and Mr. and Mrs. Eugene Amore and daughter, Wendy, of Dayton.
Grandchildren of the Col. Johnsons and their families present were Mr. and Mrs. Dann Dalton and daughter, Ann Marie, Mr. and Mrs. Virgil Morris and daughter, Karen of Dayton and Pvt. First and Mrs. Jack Steffen, and the Amores' children and their families, Mr. and Mrs. Jim Amore and Mrs. Thomas Newhouse and son, Pat, all of Dayton. Pvt. Steffen leaves Jan. 1 for Vietnam and Sgt. (USAF) Thomas Newhouse is presently serving in Da Nang.
50th Anniversary Book
Visitors
Glen R. Johnson Jr.; Mary H. Amore; Eugene J. Amore; Mary Johnson; James G. Amore; Wendy Amore; Michele Newhouse; Phyllis A. Amore; Barbara A. Galley; Rick Johnson; Larry Galley; Mr. & Mrs. Ward Livezey; Mr. & Mrs. Herchel MCDonnell; Mr. & Mrs. Harley Franklin; Mrs. Edith Taylor; Bill Douglass; Mrs. Gertrude Titlow; Mr. & Mrs. Harold St. John; Fred Kreusch; Mrs. Lee A. Wright; Donna Steffen; John F. Steffen Jr.; Bonnie K. Flanagan; Jane V. Morris; Daniel J. Dalton; Judy Dalton; Ann-Marie Dalton; Virgil Morris; Charlie Himes; Mr. & Mrs. Andrew Copenhefer; Mr. & Mrs. William T. Armstrong; Mrs. Ada Black; Mrs. Roy Bassett; Mrs. Herman Semler; Mrs. Robert Rue; Mr. & Mrs. Glen Blazer; Marion & Bob Daly; Jean & Jay Hiles; Mr. & Mrs. Lewis C. Aukerman; Rev. A.R. Meiller; Mrs. Gilbert Young; Mr. & Mrs. Spevacek; Mr. and Mrs. Paul S. Nelson; Mr. and Mrs. R. Smart; Mrs. Virgil O. Dreyer; Mrs. Lora Andrews Waverly, Ohio; Mrs. Betty Menton; Virginia Herschburg (Mrs. Allan); Mr. and Mrs. Claude W. Collins; Mr. and Mrs. Marvin S. Kline; Mr. and Mrs. E.J. Clark; Don & Doris Buescher; Jane & Bob Thomas; Helen C. Eller (Mrs. R.V.); Don & Mary Ann Moore; Jack & Lois Reynolds; Joseph & Betty R. Spach; Mr. & Mrs. JB Lee; Mr. & Mrs. Geo C. Moore; Mr. & Mrs. Jay Binnell; Mr. & Mrs. Jack Esterline; Mr. & Mrs. Lee D. Andrews; Mr. & Mrs. Thomas V. DeHaven; Mr. & Mrs. Chris Zimmer; Mr. & Mrs. Montgomer and Mary Edmonds of Tipton, Ind.; Mr. & Mrs. Emil M. Kolodsik Cls, Ohio; Ruby Brothers; Mr. & Mrs. Robert Sarchet; Mr. & Mrs. Daniel C. Dalton; John & Alice Steffen; Dr. & Mrs. Earl J. Spencer.
Cards or Gifts were received from:
Jim & Phyllis Amore; Tom & Alice Armstrong; Gene, Mary Helen and Wendy Amore; Michele Newhouse; Lee & Betty Andrews; Lewis & Osee Aukerman; Mr. & Mrs. John Anderson & children; Mrs. Ada Black; Doris & Don Buescher; Glen, Nina, Marion & Bea Blazer; Miss Ruby Brothers; Mrs. Magdelene Benedict; Mrs. Katherine Bassett; Mildred & Helen Berry; Mrs. Edgell Baker; Bob & Mary Jean Bauman; Mr. & Mrs. Roy Birmingham; Eldred & Rita Burgy; Mrs. Dorothy R. Boger; Jerry & Pat Bourne; Mrs. Della Collins; Claude Collins; Andy & Marion Copenhifer; Otto & Edna Cornelius; Vern & Pat Catlin; Dan, Judy & Ann-Marie Dalton; Stephen & Lucille Davis; Dan & Margurete Dalton; John & Eva Dasher; Dayton Balloon Bed No. 14 (Virginia & Henry Borchers; Everett & Dorothy Clark; Ken & Jo' Havens; George & Dorothy Moore; Dr. Earl & Phyllis Spencer; Elwood & Alta Scherer; Don & Ethyl Montgomery); Daughters of America, Evening Star Council #175; Stephen & Lucille Davis; Mrs. Ethel Daugherty; Mrs. Helena Dritt; Wm. & Chris Drinkwater; Mrs. Helen Douglas & family; Lauren & Lois Dennewitz; Mrs. Dorothy Donchay; Tom & Florence DeHaven; Charlie & Peggy Devine; Mr. & Mrs. LR Edwards; Jack & Mary Esterline; Virgil & Helen Eller; Mary J. Forider; Mr. & Mrs. Clinton Fannin; Carl & Mildred Florence; Paul, Florence, Brad & Kim Fahrney; Earl & Betty Fox & family; Al & Ellen Gilmore; Mrs. Phyl Gares; Larry & Barbara Galley & Rick Johnson; Mike & Naomi Galley; Ray & Babs Garcia; etc.
During their lifetime, their residences included: Anderson, Indiana; Fairfield (Fairborn), Ohio; Wiesbaden, Germany; Florida; Devonshire in Dayton, Ohio; Rahn Road in Kettering, Ohio; Grand Avenue in Dayton, Ohio and the Park Layne Apartments on Belmonte Park North in Dayton, Ohio. While living at the last residence, the couple celebrated their 60th (Diamond) Anniversary. Again the children and grand-children put together an Open House to celebrate. The party was held in the Party Room of Park Layne Apartments and attended by a large number of their friends, family and many others whose lives Glen and Vesta had touched throughout the years.
The Fairborn Daily Herald
Tuesday, August 8, 1978 - 9
Glen R. Johnson: He's Served Community, Country in Peace, War
Retired Col. Glen R. Johnson enlisted in the Army Signal Corps in 1918 during the era of jetless aviation. He enjoys telling about his experiences as a "buck private rear ranks" in the World War I Balloon Corps as well as the years he served the Village of Fairfield that was to merge with Osborn in 1950 to become Fairborn.
He's never forgotten the danger accompanying the training he received at Omaha, Neb., during 1918. To emphasize it, Johnson tells that one of the training balloons exploded. Two were killed and 36 hurt.
He sailed for France in July. Another incident imprinted in his memory is the inspection Gen. John Joseph Pershing demanded of the 14th and 15th Balloon companies the day after the troops landed. "We were just off the transport after 11 days at sea and most of us hadn't had a bath. He was quite impressed we were all enlisted men."
Johnson, with the 14th Company, said the barracks had dirt floors and the ceiling leaked. The 97-foot balloons were hoisted one to three miles from the front lines to scout enemy artillery movement and relay information by telegraph cable to a grounded sentinel, Johnson said.
Following the observer's instructions, Allied troops could shell the target within one or two tries. Their only problem was the Germans also employed observation balloons which equalized spying tactics for both sides.
A motorized winch lifted and lowered the craft and its two man crew; an observer and his pilot. However, aloft in the basket over battlelines proved highly dangerous because of enemy fire. An incendiary bullet from an aircraft machine gun could turn the balloon's 38,000 cubic feet of hydrogen into a roaring inferno within seconds. Consequently, the observer and pilot parachuted to safety at the mere sight of enemy aircraft. Only one of the some 100 balloons at the Western front veered across German lines before the pilot and observer could ground it. Both were taken prisoner.
Johnson was discharged as a private in 1932 but won a reserve commission in the Quartermaster Corps in 1924 while a civilian worker at the Old Wilbur Wright Feild, Dayton.
The advent of World War II saw him return to active duty with the Army Air Corps and later the Air Force. He served continuously until the close of the Korean war. He was released from active duty in September 1953 and was retired by the U.S. Air Force on Dec. 1, 1958 as a colonel. He had served tours as director of USAF supply and services in Europe and head of material at the Arnold Engineering Development Center in Tennessee. He rejoined Civil Service ranks at the Dayton Air Force depot, now known as DESC, and on Jan. 1, 1959 was retired as the civilian chief of supply and services.
He and his wife, Vesta, married Dec. 24, 1916, in their home town of Anderson, Ind., resided in the Fairborn community 19 years during his military and civil service career. Their one son was in the 1924 class, the first to graduate from the Bath Exempted Village School (now Central School).
Many years before the villages of Osborn and Fairfield merged in 1950, Johnson proposed the merger, but too much friction existed between the two communities for it to be resolved.
He said the Fairfield people called him a traitor. They said he was trying to destroy the history of the village. Johnson was elected to the Fairfield village council in 1936 and was instrumental in the building of a sewage disposal plant that served both villages. He said Columbus told the communities they would have to consolidate their efforts. There could not be two plants.
He couldn't remain on the council due to his employment at the base. Dan Hoak took his place and served many years carrying on the work of consolidation. During his service to the city, Johnson was also fire chief. He recommended M.L. (Bud) Warner for the post when he left.
Johnson is a member of the Michael L. Finnel Lodge 711, F&AM, and other local organizations. He was scoutmaster 10 years of Boy Scout troop 54, and holds the Silver Beaver award. He's also a past commander of the Dignam-Whitmore American Legion post 526 and past worthy patron of Aero Chapter, Order of the Eastern Star. His wife is a charter member of the Legion Auxiliary Unit 526.
Their two children are Glen Roy Jr. and Mary Helen Amore. They have eight grandchildren and several great-grandchildren.
Vesta died on January 19, 1984 after a brief illness at Miami Valley Hospital in Dayton, Ohio. They had recently celebrated their 67th anniversary. In July 1984 Glen moved from the apartment he'd shared with his wife to Trinity Nursing Home in Beavercreek, Ohio. He had been in failing health for many years. He lived there until his death - one year almost to the day after his beloved Vesta died - January 18, 1985. The funeral was held at Trinity United Church of Christ with full military honors. Burial was next to his wife and close to his baby daughter at Glen Haven Memorial Gardens in New Carlisle, Ohio.
Obituary
Fairborn Herald, Fairborn, Ohio January 18, 1985
COL. GLEN R. JOHNSON
Retired Col. Glen R. Johnson, 86, died this morning, Jan. 18, 1985, in Trinity Home, Dayton. Col. Johnson held many property and supply posts in the U.S. Air Force Air Material Command before retiring in late 1959 as deputy director of supply and services, Dayton AF Depot. Born in Anderson, Ind., he moved to the Dayton area in 1923 to become a supply clerk at Fairfield Air Depot (later named Wright Field). He formerly resided in the Park Layne Apartments in Dayton. He also had resided in Fairborn for 19 years and had proposed the merger of the villages of Fairfield and Osborn many years before their merger in 1950 to become Fairborn. He was elected to the Fairfield Village Council in 1936, was instrumental in the building of the sewage disposal plant to serve both villages, and served as fire chief for the volunteer fire department. Active in veteran affairs, he was commander and service officer for George E. Dignam Post 526 (now Dignam-Whitmore Post), and also served as scoutmaster for several years of Boy Scout Troop 54, sponsored by the Post. Col. Johnson was one of the first to receive the Silver Beaver award in 1930 given for leadership in the Tecumseh Council, Boys Scouts of America. In the 1950s and '60s, he was active as national commander and newspaper editor of the National Association of Balloon Corps Veterans (NABCV) (WWI), and had contributed many artifacts to the Air Force Museum at Wright-Patterson Air Force Base. He also served two terms as regional vice president of the National Association of Retired Federal Employees. Col. Johnson began his military career in 1918 when he enlisted and was assigned to the 14th Balloon Company and saw WWI duty in France. He was commissioned a second lieutenant in the Army Quartermaster Reserve in 1924, and later was called to serve active duty as a major. He served tours of duty in Orlando, Wright Field, Pacific Theater and in July 1945 was appointed to the War Department Equipment Board, headed by Gen. Joseph (Vinegar Joe) Stillwell, with rank of lieutenant colonel. In April '46, Johnson was assigned as chief of the Logistics Branch, Air Force Division of the National Guard, and during the next four years helped organize and equip 27 wings and 84 squadrons of the Air National Guard. Johnson was promoted to full colonel in June 1950 and saw duty in Wiesbaden, Germany, where he served as director, supply and services, Headquarters, USAFE. This was followed by a tour as director of material, Arnold Engineering Development Center, Tullahoma, Tenn. He was relieved from active duty in September '53, returned to civil service in Dayton, and retired from the Air Force in December 1958. His affiliations included Michael L. Finnell Lodge 764, F&AM; Aero Chapter 536, Order of Easter Star (past worthy patron); Antioch Shrine Temple, Dayton; High 12 Club of Dayton 69; Ancient Accepted Scottish Rite Valley of Dayton; NARFE; American Association of Retired Persons; American Legion Post 526; VFW Post 6861, Fairborn; Voiture 40 and 8; Kittyhawk Chapter 70, Reserve Officers Association of the United States; and Retired Officers Association. A member of Trinity United Church of Christ, he was a charter member of the Aviation Hall of Fame and a past member of the USAFE Chapter, National Sojourners; Joppa Lodge, FAAM, and Joppa Chapter, OES, both in Washington, D.C.; Oregon Military Lodge, F&AM, Frankfurt, Germany; and the Square and Compass Club (serving as president) and the Star of Germany Chapter, OES, both in Wiesbaden. Col. Johnson is survived by a son, Glen R. Johnson Jr., Battle Creek, Mich.; daughter, Mary H. Amore, Beavercreek; eight grandchildren; 2 step-grandchildren; 14 great-grandchildren; and one great-great grandchild. He was preceded in death by his wife Vesta in January 1984; daughters Genevieve in 1958 and Lois Evelyn in 1927. Funeral services will be held at 2 p.m. Monday in the Burcham Funeral Home. Full military honors will be observed and the Rev. Roger Burlingham will officiate. Burial will be in the Glen Haven Memorial Gardens, New Carlisle. Visitation will be held from 1 to 5 p.m. Sunday in the funeral home. Memorial donations may be made to the Trinity United Church of Christ Elevator Fund, 821 N. Central Ave.
Family
Father:
John Lafayette Johnson born March 2, 1861
Mother:
Katie Jane Blazer born September 24, 1864
Spouse:
Vesta Christena Wilt born May 7, 1898
Children:
Glen Roy Johnson, Jr. born December 5, 1917
Genevieve Vesta Johnson born July 9, 1920
Mary Helen Johnson born Private
Lois Evelyn Johnson born June 9, 1927
EVA E. JOHNSON
Eva Johnson was born October 2, 1910 in an interurban car in Fortville, Indiana. Her mother, Clara Badgly, was unable to raise her and during her stay at St. Johns Hospital, Miss Badgly asked Katie Johnson to raise the baby. Since their only daughter had died after birth, Katie and John took Eva into their home and their hearts. The nuns at St. Johns would not allow a formal adoption, so Eva was never adopted by the Johnsons. Before Katie passed away, she told Eva about her biological mother and circumstances surrounding her birth.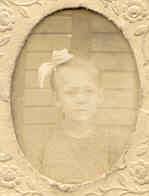 Eva Johnson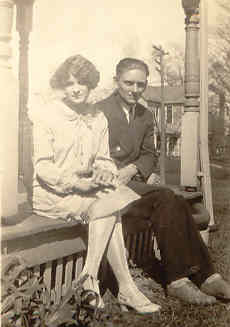 Eva and John Skinner
News Article
Unknown Indiana Newspaper
Mother and Daughter to Be Reunited By Story in Herald
Echoes of twenty years ago were sounded yesterday when a mother and daughter who had been separated for that length of time found each other through the medium of The Anderson Herald. Twenty years ago October 2, 1910 a baby girl was born on an interurban car at Fortville. The child and mother were brought to St. John's hospital here. Limited circumstances prompted the mother to give her daughter to a woman at Fortville, who promised to rear the child. Four years ago the foster parent, Mrs. Charles Johnson, died. Shortly before her death Mrs. Johnson told her daughter, Eva Mary, about the adoption. Several years ago Miss Johnson married John Skinner of Fortville. During the past four years Mrs. Skinner has made every possible effort to find her real mother. Several days ago a letter was received at the Herald office from a woman in Chicago who saw an advertisement in a magazine carrying the name of Eva Mary Johnson mentioning her adoption when three days old at St. John's hospital. The woman, Mrs. Clara Badgly Grennells, 810 Berry avenue, Chicago, requested The Herald to print her appeal. Mrs. Skinner read the story which appeared Tuesday and is in communication with the Chicago woman. A meeting is to be arranged soon. Mrs. Skinner said she is confident that Mrs. Grennels is her mother as her mother's maiden name was Clara Badgly.
Eva's favorite movie star was Clara Bow and she wore outfits similar to those that Miss Bow made popular from her movie roles. The young girl was also very wild even after she married John Skinner. John was born about 1901. The couple had one child, Charles Leland "Buster" Skinner. Family rumor has it that Eva had many pregnancies illegally terminated both before and after her marriage. She did have one daughter later in life which she gave up for adoption. Eva died in September 1991 in Anderson, Madison County, Indiana. She was buried in the East Maplewood Cemetery in Anderson. Eva and John had divorced many years prior to her death. Contrary to the obituary, Eva's son and his family were still living and she had gotten to meet the daughter she gave up prior to her death.



Obituary
Eva L. Skinner
Eva L. Skinner, 80, Anderson, died Sunday at Countryside Manor Healthcare Center after an extended illness.
She was born Oct. 5, 1910, in Anderson, and had lived in the Anderson area most of her life. She as a housekeeper/sitter and had lived at Harter House before moving to Countryside Manor. She was one of the original residents of Harter House.
There are no survivors.
Graveside services will be at 2:30 p.m. today at East Maplewood Cemetery with the Rev. Ron Spyker of First United Methodist Church officiating.



Family
Father:
John Lafayette Johnson born March 2, 1861
Mother:
Katie Jane Blazer born September 24, 1864
Spouse:
John Skinner born about 1901
Child:
Charles Leland "Buster" Skinner born Private
Child:
Lynn born Private
Web page style and design Copyright 2000-2006 Wendy J. Littrell
Information on this page is meant to be shared as part of "Free Genealogy Information" - however you may not take this information to put on web sites or any media that is business or will make a profit. This information is NOT allowed to be sold.
KEEP FREE GENEALOGY ALIVE!