Roscoe Man Dies Today Nine Months' Illness Fatal to W. H. Amore, Salvation Army Worker William Henry Amore, 82, died at his home in Roscoe at 3 a.m. today from heart trouble and hardening of the arteries. He had been in failing health since last October, when he suffered a light stroke. Funeral services will be conducted at the home at 2 p.m. Monday by Major Hinkle of the Salvation Army and Rev. M. R. Fitch. Burial will be in the Roscoe cemetery. Mr. Amore was born March 10, 1852, in West Lafayette, the son of William and Charlotte Amore. He was united in marriage Dec. 24, 1872, to Mary Angeline Werts. To this union were born seven children, all of whom survive. In his early life Mr. Amore was a carpenter, later becoming a farmer. With the exception of a little more than seven years, when he assisted his son in Salvation Army work in Zanesville and Portsmouth. Mr. Amore spent his whole life in Coshocton County. In 1900 he moved his family to Coshocton, where he engaged in shoe cobbling, a trade that he followed until about four years ago. In 1903 the family moved to Roscoe. At the age of 16 he joined the Mr. Zion Methodist church, and 28 years ago joined the local Salvation Army corps, of which he has been a valued member. Those who survive are his wife, one daughter, Mrs. Benjamin F. Baker of Columbus; six sons, Rev. I. H. Amore of Elyria, Adj. Rollo Amore of Newark, Clarence of Delaware, Roy of Bacon Run, Lloyd of Coshocton and Herbert of the home. He also leaves 33 grandchildren and 15 great-grandchildren.
Obituary
Mrs. William Amore Dies Late Friday At Home in Roscoe Mrs. William H. Amore, 86-year-old Roscoe woman, died at her home at 10 p.m. Friday following eight years illness with arthritis, which resulted from injuries suffered in a fall in 1929. She was born in Linton township, Coshocton County, Feb. 16, 1855, a daughter of William and Louise Werts. She was married to William H. Amore Dec. 14, 1872, and he preceded her in death seven years ago. Except for five years spent in Muskingum County, Mrs. Amore had spent her entire life in Coshocton County. She was a member of the local Salvation Army for 25 years. Surviving are a daughter, Mrs. B.F. Baker of Columbus; six sons, Rev. I. H. Amore of Columbus, Maj. Rollo W. Amore of Cambridge, Clarence W. Amore of Cleveland, W. Lloyd Amore of Coshocton, Roy Amore of near Plainfield and Herbert I. Amore of the home; 33 grandchildren, and 42 great-grandchildren. Brief funeral services will be held at 1:30 p.m. Monday at the home in Roscoe, followed by rites at 2 o'clock at the Salvation Army citadel. Capt. Douglas Bethune of the citadel will officiate, assisted by Rev. J. I. Moore of the Nazarene church. Burial will be in Roscoe cemetery.
Children of William Henry Amore and Mary Angeline Werts: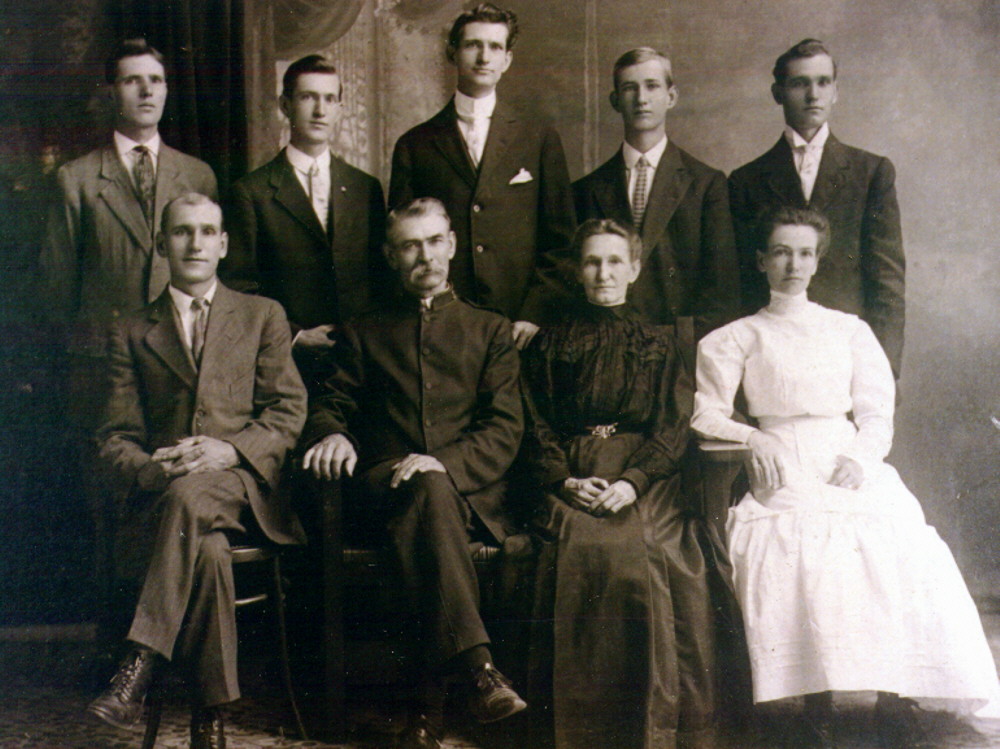 William Henry Amore family
Standing L-R: Herbert, Rollo, Zade, Clarence, Lloyd
Sitting L-R: Roy, William Henry, Mary Angeline, Clemmie
Coshocton Tribune
May 27, 1924; Page 5
Four generations were present at the first reunion of the Amore-Wertz families, held Sunday, May 25, at the home of Mr. and Mrs. W. H. Amore, in Roscoe.
Music was provided by a brass band and quartet, during the afternoon. Officers were also elected, committees appointed and plans laid for holding similar gatherings annually.
About 100 persons were there including Mr. and Mrs. B.F. Baker and family, Mr. and Mrs. Donald Baker and family, Clarence W. Amore and family, Mr. and Mrs. Foster and H. Emmerson, of Columbus, Mr. and Mrs. Cephas Amore and family and Mr. and Mrs. John Reese and children, from Alexandria, Mrs. Dennis Brannon, of Adamsville, Mrs. William Seater and children, of Sonora, Captain R. Amore and family, from Dover, the Rev. I.H. Amore and family and Miss Marie Buschagen, of Youngstown, Mr. and Mrs. Therman Vensil and family, Mr. and Mrs. Lewis Barcroft, Mrs. William Simmons, Alex Jennings and family, Mr. and Mrs. John Jennings and family, Mr. and Mrs. Calvin Jennings and family, Belford McClain and family, Delbert Stone and family, Mr. and Mrs. Calvin Werts, Lloyd Amore and family, Roy Amore and children, Mrs. John Shuck, Mrs. Samuel Powelson and daughter, of Coshocton, Mr. and Mrs. Walter Shackelford of Zanesville, Charles Fisher and Mr. and Mrs. W.H. Amore, the host and hostess.




First Amore-Wertz Reunion 1924
Web page style and design Copyright 2000-2008 Wendy J. Littrell
Information on this page is meant to be shared as part of "Free Genealogy Information" - however you may not take this information to put on web sites or any media that is business or will make a profit. This information is NOT allowed to be sold.
KEEP FREE GENEALOGY ALIVE!