Mystery Surrounding Francis V. Ogan
Stories have filtered down through the family that Francis was left on a doorstep as a baby. Her maiden name has been reported as Ogan - according to James' application for invalid pension and her obituary - and Ogelvey - according to her grandson, Gene Amore, and her son, (Alva) Lester House (see letter above). Where did Francis come from? Obviously she wasn't dropped to earth by the proverbial aliens! Was she left on a doorstep? Or did she get "farmed" out as so many children did back in the mid- to late 1800's due to financial reasons? Another theory leans to the fact that one of her parents died (or both) and she was brought up by relatives, god-parents, or neighbors.
Her obituary states that she was born in Guernsey, Ohio so that is where the census search began. A Francis was found in the 1850 census as a three year old, living in the home of David Ekhart in Guernsey County.
Update
- On January 23, 2002 Francis was also found in the 1850 Census in Richhill Township, Muskingum County, Ohio living in the Evan & Susannah Ogan household at age 3 - her name is listed as Francis Foster.
End of Update
In the 1860 Guernsey census, Francis Foster (female), age 13, was living in the home of Evan and Susannah Ogan - both in their 70's. In 1870, Francis Ogan was living at a local hotel as a cook. After that she is found living in the House home. It is still unknown if the Francis in either of the 1850 censuses is the woman being searched for. Evan and Susannah Ogan may have been related to Francis or another thought is she married their son before 1870 and he either died or the marriage ended. It has also been reported that she went by "Frankie" and her middle name was Virginia. Except for the census reports, most of these theories are conjecture and not to be taken as documented proof.

Obituary for Francis V. House
Unknown Coshocton Newspaper
Mrs. James E. House Dies After Lingering Illness
Mrs. James E. House died at her home at 423 North Eleventh street Thursday morning at 7 o'clock following an illness from a complication of diseases extending over the past several years. During the past several days her condition was regarded as dangerous and it was known by members of the family that she could not live more than a short time. Frances V. Ogan was born in Guernsey County, November 29, 1846. On May 26, 1873, she was united in marriage with James E. House and to this union two daughters and six sons were born. Two sons and one daughter died some time ago. The husband, four sons and one daughter survive. The children are: Florus, John, James, Alva Lester, all of this city, and Mrs. Lloyd Amore, of Roscoe. There are also three step-children, Edward F. House, Mrs. Thomas Ruby and Mrs. Allen Conger who reside in this County, and eighteen grand children. Mrs. House was well known throughout the city and the news of her death brings sorrow to many hearts. Funeral services will be held at the United Brethern church Saturday afternoon at 10 o'clock, with Rev. H. H. Davis in charge. Interment will be made in the cemetery at Prairie Chapel.

Obituary for James Emory House
Unknown Coshocton Newspaper
James House dies at One O'Clock Wed
James E. House, aged 82, Civil War Veteran, died at the home of his daughter, Mrs. Lloyd Amore, on the West Lafayette Road, Wednesday afternoon at 1 o'clock. The cause of the aged man's death was lung trouble and infirmities. Mr. House was born May 9, 1842. Practically all of his life was spent in this County. For the past few years he has however, been an inmate of the State Soldiers and Sailors' Home, at Sandusky. About six weeks ago he was brought to the home of his son-in-law and daughter, Mr. and Mrs. Amore, where he has been in rapidly failing health since. James E. House saw four years service in the War of the Rebellion as a member of Company H, 80th regiment. He went with Sherman on the march to the sea and fought in the siege of Vicksburg. Surviving are four sons and three daughters. Florus E., John W., Lester, Edward and Mrs. Allen Conger, all of this city, Mrs. Belle Ruby, of near Plainfield, and Mrs. Lloyd Amore, on the West Lafayette Road. Mrs. House died about ten years ago. Three sisters also survive, Mrs. Sarah E. Chamberlain and Mrs. Nancy De Long, of this city, and Mrs. Mary E. Rogers, of Warsaw. Mr. House was a member of the U.B. church, of this city, where the funeral services will be held. Definite funeral arrangements had not been completed Wednesday afternoon.

Death Record
Ohio Death Index
County: Coshocton
Name: Francis House
Date: 2/18/1915
Volume Number: 1563
Certificate Number: 6761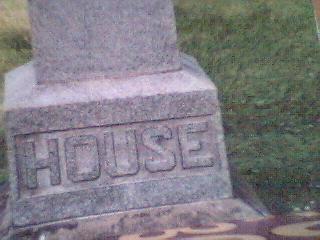 TOMBSTONE FOR
JAMES & FRANCIS HOUSE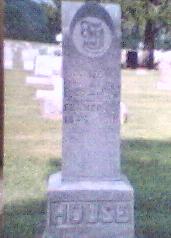 FULL SIZE SHOT
OF TOMBSTONE IN
PRAIRIE CHAPEL CEMETERY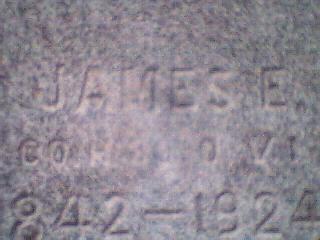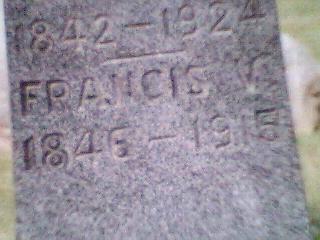 Children of James Emory House and Barbara Shryock:



Edward F. House b. 17 Dec 1866 d. Unknown m. abt. 1890 to Nancy Rodgers b. June 1860 d. Unknown


Belle D. House b. 23 Apr 1868 d. Unknown m. abt. 1886 to Thomas Ruby b. Aug. 1864 d. Unknown


Lucina House b. 13 Sep 1869 d. 19 Aug 1937 m. 4 Jan 1888 John Allen Conger b. Apr. 1865 d. Unknown

Children of James Emory House and Frances V. Ogan:


Florus A. House b. 21 Apr 1873 d. 10 July 1941 m. 26 July 1899 to Emma Caroline Stacer b. 4 June 1879 d. 12 Dec 1965


John Wesley House b. 31 Aug 1874 d. 1945


Elmer House b. about 1878 d. about 1882


James William House b. 31 Aug. 1879 d. Unknown m. 8 Mar 1899 to Cora Randles b. Abt. 1880 d. 27 Feb. 1919


Julia Ann House b. 20 Sep 1880 d. 1907 m. 25 Dec 1906 to Percy J. Tuttle b. Unknown d. Unknown


Ella Maria House b. 22 June 1882 d. 3 July 1946 m. 11 Apr 1903 to Lloyd William Amore b. 5 Mar 1882 d. 25 Feb 1955


Charles E. House b. 1884 d. 1896


Alva Lester House b. 9 May 1886 d. Jan 1968 m. (1) Bef. 1908 to Mary (maiden name Unknown) b. Abt. 1891 d. Unknown m. (2) Unknown to Pearl D. (maiden name Unknown) b. 1892 d. 1945



MARY A. HOUSE

(1846 - ?)

Mary A. House was born in Coshocton County, Ohio in 1846. She was the sixth child and third daughter of Florus Allen and Julia House. On August 4, 1870 she married Jacob M. Rodgers in Coshocton County, Ohio. It is unknown if there were children born to this marriage. It is also unknown when they died or where they were buried.

SARAH E. HOUSE
(1848 - ?)

Sarah E. House was born in March of 1848 in Coshocton County, Ohio, the seventh child and fourth daughter of Florus Allen and Julia House. She married Benjamin Chamberlain on April 30, 1893 in Coshocton. He was born in February 1838 in New York.

House Names A-E
House Names F-J
House Names K-M
House Names N-R
House Names S-Z
Home
Next
Web page style and design Copyright 2000 Wendy J. Littrell
Information on this page is meant to be shared as part of "Free Genealogy Information" - however you may not take this information to put on web sites or any media that is business or will make a profit. This information is NOT allowed to be sold.
KEEP FREE GENEALOGY ALIVE!