John Alfred Wilt was born October 24, 1893 in Noblesville, Indiana. John never married. He served in World War I and after the war his occupation was a logger in Oregon. In 1929, he purchased land in Lake County, Oregon. He shared a home with his youngest brother, Clifford, and they lived close to their mother, Martha. John died on December 31, 1964 while in the hospital in Springfield, Oregon. He was buried at Greenwood Cemetery in Leaburg, Lake County, Oregon.
JOHN WILT
Land Record
Bureau of Land Management; Government Records
Accession / Serial # 1027416
BLM Serial #: ORL 0013368
State: OREGON
Note: This record has not been checked against the Legal Land Patent.
Patentee Names:
Kimball Hayden
George A J Moss
Buch Smith
Charles Striegel
John A Wilt
Warrantee Name:
Document #: - -
Misc. Doc. Nr: - -
Indian Allotment Nr: - -
Tribe: - -
US Reservations: Yes
Mineral Reservations: No
Geographic Name: - -
Metes / Bounds: No
Survey Date: - -
Issue Date: May 13, 1929
Cancelled: No
Authority: May 20, 1862: Homestead Entry - Original (12 Stat 392)
Acres: 14
Land Office: Lakeview
Comments: - -
Alliquot Parts: 6
Sec/Blk: 9/
Twnshp: 33-S
Range: 19-E
Fract. Sect.: No
Meridian: Willamette
State: OR
Counties: Lake
Survey Nr.: - -
Remarks: Lot 6 OR NWSW Quarter


Obituary
Springfield (Ore.) News, Monday, Jan. 4, 1965
John A. Wilt (obituary)
John A. Wilt, 71, of Leaburg died at a local hospital Dec. 31. He was born Oct. 24, 1893 in Noblesville, Ind., and had lived here for the past 45 years. Mr. Wilt, a retired logger, was a veteran of World War I and a member of the Springfield American Legion Post No. 40. Surviving are two brothers, Clifford M. Wilt of Leaburg and Clarence M. Wilt of Fortville, Ind.; two sisters, Mrs. Nellie M. Lilly of Tillamook and Mrs. Vesta C. Johnson of Dayton, Ohio; several nieces and nephews. Funeral services will be held at Buell Chapel Wednesday, Jan. 6, at 2 p.m. The Rev. Ross Knotts will officiate and Interment will be in the Greenwood cemetery at Leaburg.


Memorial Bulletin
In Memory Of
JOHN ALFRED WILT
Date of Birth
October 24, 1893
Noblesville, Indiana
Passed Away
December 31, 1964
Springfield, Oregon
Services At
Buell Chapel 2:00 p.m.
Wednesday, January 6, 1965
Rev. Ross Knotts
Ebbert Memorial Methodist Church
Officiating
Music By
Merrill Womach
Interment
Greenwood Cemetery
Leaburg, Oregon
Gary A. Buell
Funeral Director
JESSE LOREN WILT
Jesse Loren Wilt was born on December 4, 1895 in Indiana. He served in World War I with a tour in France. Jesse married Inez Franklin on February 28, 1920 in Madison County, Indiana. Four children were born to this union.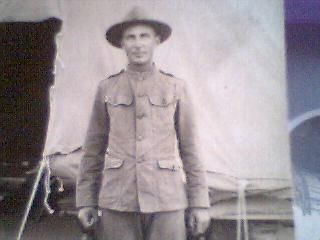 JESSE WILT
FAMILY
Father:
Joseph Napolean Wilt born January 21, 1867
Mother:
Martha Jane Stern born February 9, 1872
Spouse:
Inez Franklin born Unknown
Children:
Frederick L. Wilt born December 20, 1920
William T. Wilt born Unknown
Lorraina M. Wilt born Unknown
Joann Wilt born Private
VESTA CHRISTENA WILT
Vesta Christena Wilt was born on May 7, 1898 in Noblesville, Madison County, Indiana. She was the fourth child and first daughter of Joe and Martha Wilt.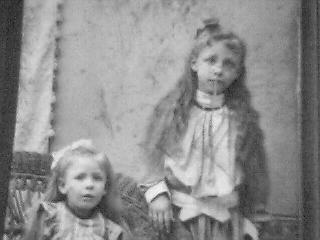 NELLIE & VESTA WILT
Ages 4 & 7
When Vesta was about 10, her parents divorced. Her mother's sister, Margaret, had passed away in 1908 leaving two young children. In 1909 Vesta's mother, Martha, married her former brother-in-law (Margaret Ellen's widower), William Frank Clawson. He brought to the family Vesta's cousins, Ralph and "Nanny" Clawson. The family moved to Arrow Avenue in Anderson, Indiana. Despite the divorce, Vesta was very happy as a young woman and was very active in the social life in Anderson. She attended the Central Christian Church and met her future husband, Glen Roy Johnson. Vesta attended the High School in Anderson, Indiana.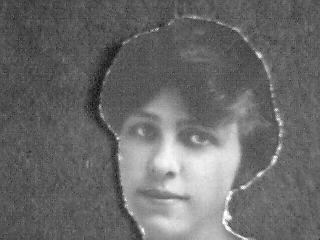 Vesta Wilt
Vesta and Glen were married at her mother's house on December 24, 1916. The couple moved to Ohio in 1923. Four children were born to this marriage. The youngest child, a daughter, was premature and died at six weeks of age. The couple moved quite frequently due to Glen's military career in the Army Air Corps, which later became known as the Air Force. Vesta loved to entertain and visit with family and friends. After retirement, they still traveled quite frequently. They went on many trips "out west" to Oregon to visit Vesta's siblings, Nellie, John and Clifford after Martha passed away. They also spent some winters in Florida where many of their friends "wintered". To their family and the many grandchildren and great-grandchildren who were fortunate to grow up knowing them and loving them, they were "Nana" and "Grandad".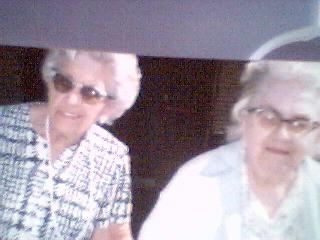 VESTA & NELLIE
Vesta suffered from many illnesses in her lifetime. Her youngest daughter remembers that Vesta was "sickly". In the early 1970's, Vesta fell and broke her elbow. The resulting hospitalization was very long and during it she suffered from blood clots and health problems. After that, Vesta suffered a series of heart attacks. Just when it seemed that the health problems were behind them, Glen fell on a trip to Washington state and suffered a blood clot on his brain. The symptoms mirrored a stroke but soon the physicians knew that surgery was necessary. Glen spent several months in the hospital - having to learn the basics all over again. In the early 80's, after several months of illness for both of them and having a full time live-in nurse, Vesta suffered a health crisis again. She entered Miami Valley Hospital in Dayton, Ohio in mid-January. During the afternoon on January 19, 1984, she passed away. Family came in from many states and once more gathered at the apartment that had been their home for so long. Burcham Funeral Home in Fairborn, Ohio was in charge of the arrangements and the funeral was held at Trinity United Church of Christ. It was very cold that day and touches of snow were still on the ground. The grand- and great-grandchildren were pallbearers for Vesta. A short service was held at the chapel at Glen Haven Memorial Gardens. Burial followed after the mourners had left. Exactly one year later minus a day, Glen passed away at his residence at Trinity Nursing Home in Beavercreek, Ohio.
Marriage Information
Index to Marriage Record Madison County, Indiana 1880-1920
Name: Johnson Glen
Spouse: Vesta Wilt
Birth Date: Nov 21 1898
Color: W
Marriage Date: Dec 24 1916
Book: 30
Page: 73


For more information on Vesta Wilt and her husband, Glen Johnson, go to Glen R. Johnson



FAMILY
Father:
Joseph Napolean Wilt born January 21, 1867
Mother:
Martha Jane Stern born February 9, 1872
Spouse:
Glen Roy Johnson born November 21, 1898
Children:
Glen Roy Johnson Jr. born Dec. 5, 1917
Genevieve Vesta Johnson born July 9, 1920
Mary Helen Johnson born Private
Lois Evelyn Johnson born July 9, 1927
Web page style and design Copyright 2000 Wendy J. Littrell
Information on this page is meant to be shared as part of "Free Genealogy Information" - however you may not take this information to put on web sites or any media that is business or will make a profit. This information is NOT allowed to be sold.
KEEP FREE GENEALOGY ALIVE!